Advertise your holiday home or apartment – easily and affordably, without extra fees!
The portal to successfully letting your holiday accommodation
High occupancy rate during the high and low seasons

More than 1 million booking requests per year

Top ranking in search engines

More than 14 million holidaymakers annually thanks to top rankings

International reach

Entry via 8 Internet portals (in German, English, French, Polish, Italian, Spanish, Dutch and Croatian)

Maximum rental income

No service fees - no booking fees - no commissions
Independent partner

Successfully owner-managed on the Internet for more than 16 years

Maximum independence

With us you have a free hand and communicate directly with your guests

No risk - no automatic renewal!

The decision to renew is yours, and yours alone

Personal Customer support

Telephone support from Monday to Friday 9 pm to 5 pm
Register your holiday home in just 3 steps
1
Register for free
Register for free and without obligation
2
Describe your holiday home
Simple and fast descripiton of your property, supported by up to 30 pictures
3
Successful letting
Fast listing of your advertisement after our free ad check and receipt of payment
Frequently Asked Questions
Why is tourist-paradise.com the right partner?
Ferienhausmiete.de is one of Europe's largest holiday home websites. With more than 14 million visitors annually and more than 1 million booking enquiries, we are the right partner for you if you want to let your holiday property successfully and without any hassle. Our excellent ranking in the search engines makes it simple.
How much is an ad?
A single advertisement on tourist-paradise.com costs EUR 99.00 per year plus VAT. Each additional ad costs EUR 79.00 per year. Please contact us directly if you have 10 or more advertisements, so we can make you an individual offer. You do not incur any commission, service or booking fees.
By booking a Top Advertisement, you can present your property on your region's landing page. A Top Advert costs an extra EUR 25.00 per month. If you book a Top Advert for 12 months, you pay for just 10 months.
Do I have to pay commission?
No. With us you only pay one low annual fee per advertisement. There is no commission or service fee, so 100% of the rental income goes to you as profit!
How long is the contract period?
The contract period for your advertisement is one year and expires automatically. It is entirely up to you whether you decide to renew your ad. But if you book for 24 months, we'll give you a discount of 5%.
Does my ad also appear in search engines?
Yes, we make sure that your advertisement appears in search engines and is found by holidaymakers. Ferienhausmiete.de is one of Europe's largest travel portals. Our excellent positioning in the search engines also generates enquiries and bookings for you!
How can I improve the ranking of my ad?
The ranking of your advertisement is influenced by how up-to-date and how complete it is. In order to achieve a good ranking, you should pay attention to the following points:
Specify season prices for one year in advance
Keep your availability calendar up to date at all times
Add the maximum number of high resolution pictures
Complete all text boxes with relevant texts
Collect many reviews
All of these points are not only important for internal ranking; they also make your ad more attractive to visitors, which means you'll get more enquiries and above all more bookings.
If you want to improve the ranking of your advertisement, we recommend you to book a Top Advertisement. By booking a Top Advertisement, your property will be directly listed on your region's landing page. A Top Advertisement costs EUR 25.00 per month. If you book a Top Advert for 12 months, you pay only 10 months.
How soon will my ad be published?
Once you have created your advertisement and inserted all your text and pictures, please click on "Place advertisement online now". After entering your invoice address you can order the ad. You will then automatically receive a contract by e-mail. As soon as we have received payment your ad will be checked and published by our Customer Support team.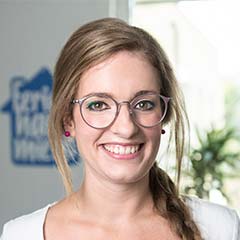 Do you have any further questions?
You can contact us by phone Mo - Fr from 9 am - 5 pm:
+49 30 609 891 44
Pointers and practices for hosts and hostesses
14 Pointers to begin your holiday home host career
Holiday home rental – The basics
An ever-growing private holiday home market confronts you, as host or hostess, with serious competition. In addition, there are legal aspects you need to consider, to be sure you keep on the safe side. So, it makes sense to plan your launch on the holiday home rental market carefully, sparing yourself not only legal and financial difficulties, but also unnecessary stress. Relaxed and ready, you can look forward to your new role as holiday home host or hostess.

Our advisor guides you towards creating an attractive and optimally marketed holiday home or holiday apartment for your future guests. You will also learn which legal and tax issues are important to consider.
1. Customer orientation – The essence of holiday home rental
Experienced hosts with a professional approach, have long understood that simply offering a bed for the night has little hope for success. Your accommodation should certainly go beyond the basics. These days, steady and reliable WLAN s considered a standard requirement and no longer an attractive extra. Your goal is to fulfil your guests' holiday dreams, adapting your accommodation to the needs and desires of your target group. Go from simple lessor to a welcoming host or hostess and give your holiday home that special competitive edge!

Pointer: To begin with, ask yourself, what type of guest would I like to welcome to my accommodation? The size and location of your holiday home determines your target group.
2. Arrive, enjoy, re-book – Accommodating furnishings and features = a high occupancy rate
Whether your target group is families with small children, elderly people, groups or pet owners , one thing is certain, your guests want to feel more than at home. Especially in view of their temporary home's furnishings and features, guests want to feel welcome, pleased and happily surprised at what they find. Take care to adapt your furnishings and features perfectly to the needs of your target group. It's well worth it.

Pointer: Take a positive approach! View the costs of furnishings, renovations or maintenance as an investment instead of a financial burden. Even small, optical, quite affordable changes in your holiday home give your guests the feeling you care about their well-being – and open the doors to other target groups.
Holiday home rentals – The right marketing strategy
Your apartment or cottage has a new coat of paint, the bathroom is barrier-free and the kitchen well-equipped with quality appliances. You have the most attractive holiday home with the best offer on the market, now all you need is a platform with a broad audience of potential guests! And that is the essential marketing quest of all holiday home hosts and hostesses: How to attract potential guests?
3. Show off your holiday home – Go online!
Most vacationers begin searching for a holiday home on the internet. Even if your friends and family recommend your accommodation and you have an ad with local tourism services, you should still present your property online.

Pointer: Presenting your holiday home on your own website inspires trust and credibility in browsing guests. Ferienhausmiete.de provides hosts and hostesses with a variety of widgets, such as a booking calendar or request form that you can embed on your website. This can improve your accommodation's presentation and greatly increase your chances of occupancy.
4. Go the distance – Advertise on holiday home portals
Your marketing strategy should encompass options that vacationers are most likely to use. There are so many offers, your single holiday home, no matter how fantastic, will be difficult to find on the net. As a rule, vacationers search by region, not by accommodation – especially not a home or apartment they've never heard of before. The abundance of competition for Google ratings makes it difficult to reach a large, international audience solely over your own website. Therefore, every private holiday home provider should also advertise with a large holiday home marketing partner, who specialises in efficient marketing and search engine optimisation for a steady inflow of booking inquiries.

Pointer: Most people begin their search over Google. Clicks on a portal – usually on the first 10 search engine results – lead to bookings for advertisers. Ferienhausmiete.de has a goodly 110.000 search keywords, and is on page 1 of Google search results, hence, outstanding media penetration. With over 14 million visitors annually, we are one of the largest German-speaking travel portals with more than 17.500 satisfied hosts and hostesses advertising privately operated holiday accommodations. Maybe you know someone who has already successfully presented a holiday home or apartment over such a portal. That would be a good place to seek advice.
5. Lower your marketing costs while choosing preferred guests
Our advertising model allows owners and agencies to present and let their holiday homes and apartments on our portal at an annual flat-rate. No matter how many inquiries you receive, or bookings you make, you pay only € 99 VAT per year for an advertisement on our portal. Do you have more than one holiday home? Each additional advertisement costs only € 79 per year.

At Fereinhausmiete.de there are no commissions, no service fees and no referral fees. Linked to the largest channel manager, your ads on our platform are also very easily managed, with little administrative effort. Successfully marketing your holiday home brings you numerous inquiries from potential guests. Your leeway to pick and choose which guests you let to depends on which vacation rental portal your accommodation is listed. Ferienhausmiete.de offers you maximal freedom of choice as well as communication privacy. You negotiate privately and directly with your potential guests over our contact form and internal messenger system integrated within your closed host area, or via email or telephone. We are well aware that not every holiday home is right for every guest and not every guest is a perfect fit for every host or hostess.

Pointer: Turning inquiries into solid bookings calls for prompt action. Be sure to respond to booking inquiries as soon as possible. Your guests need to know where they stand in order to plan their valuable holiday time well and reliably. They will appreciate your attentiveness.
6. Not just a matter of ranking – Appealing, thorough and up-to-date adverts
If your accommodation is listed with a travel portal, there's one thing you must know: Potential guests' first step when selecting an array of holiday homes is taken on instinct. Their initial choice is based on what they see and read. Appealing photos and welcoming texts are essential. The next step in their selection process is purely rational – competitive prices, an updated reservation calendar, complete information on all relevant furnishings and features and, most importantly, guest ratings. Bad reviews = no bookings.

Tipp: To achieve a good search engine ranking, update your advert regularly according to the above-mentioned criteria. If you advertise your holiday home on several portals, we offer you the option to synchronise your booking calendars, updating them all on just one site.
Legally secure holiday accommodations
There are a variety of regulations and laws governing holiday home letting that you, as host or hostess, must take into consideration. These laws can apply to all of Germany or vary according to state or municipality. Such laws include housing protection and noise control, owner and tenancy law, change of use laws, hygiene regulations and/or tax and commercial regulations. Are you looking to sublet your rented apartment? According to § 540 BGB (German Civil Code), you must have the owner's written permission.

We recommend that you go over the legalities of letting your holiday accommodation with a solicitor to remove any doubts or questions. Please understand that we can only offer general information on the legal aspects of holiday home letting and cannot assume any liability.
7. Pricing – Legal and market-appropriate
Determining an appropriate letting price for your holiday accommodation is no easy task. If the price is too high, inquiries will be few. If the price is too low, you run the risk of not covering your costs.

In addition, you must be careful not to infringe on pricing regulations. Holiday accommodations letting are subject to end-price regulations (PAngV) to avoid competition law (UWG) infringements. You need to calculate all blanket rates and utility costs (electricity, water, gas and heating) into your final price. If bedclothes and final cleaning are also a fixed cost in your offer, i.e. not an optional offer, then they also must be included in your final rental price.

Pointer: Naturally, you wish to market your domicile. Thus, it is vital that all items in the description, including pricing, reflect the facts. Otherwise, a closed contract can be terminated without notice and tenants can sue for damages.
8. Holiday home letting – Private or commercial?
Depending on your letting practices, your rental income and the services you offer, it's quite possible you will be required to register your holiday home rentals as a business. Although the distinction is often nebulous, there are a number of aspects that define what is a commercial business and what is not. In principle, a commercial business is declared when your holiday home rentals entail independent, continuous activity on your part that bring you economic advantages above and beyond merely administrating your assets.

Pointer: You should certainly ask the pertinent local trade office if your rental property requires commercial registration. Furthermore, be sure you are not subject to the package travel law.
9. Which taxes go to the Inland Revenue Office?
Even if you haven't registered with the trade office, you are nonetheless obligated by law to pay taxes on your holiday home rental income. Whether you need to pay VAT or trade tax depends on how much you earn on the rental property. The exemption limit for lessors is € 22,000 annually. If you earn more than this, you are obligated by law to pay VAT, meaning it must also appear on the invoice. Trade tax is required only when your profits exceed € 24,500 Euro.

Pointer: Learn which advertising costs you can deduct from your payable taxes in our Tax Advisor for private lessors.
10. Housing protection law and change of use prohibition – What do I need to know?
For many service flat proprietors, letting to short-term holiday guests or construction crews is far more lucrative than long-term tenants. More and more cities and regions (Berlin, Hamburg, Vienna, Mallorca, for example) are attempting to stem the flood of this trend with statutory regulations to protect housing and its change of use.

Pointer: Your first stop before you enter the holiday home market is your local authorities. It's possible you will need official approval before offering your property to short-term tenants. A change of use permit is usually issued by the municipal authorities, once your form has been filled out and approved.
11. Do your duty! Your insurance obligation
You are letting your holiday accommodation to other people and are thus legally obligated to maintain safety. This means your holiday accommodation must be safe for your guests to use without incurring damages. Make sure your electrical system complies with all standard safety regulations and remove any possible safety risks, such as deadwood in surrounding trees. Clear all snow and ice from all walkways around and leading to your property and make sure the periphery is secure.

Pointer: Make a quality check and spend a night or two in your holiday accommodation before receiving your first guests. This is an excellent way to clear up and improve any shortcomings.
12. Are you sufficiently insured?
As a private landlord or landlady, insurance is not a legal obligation. All the same, building, content and indemnity insurance are recommended. Speak to your insurance representative. Will a private indemnity insurance sufficiently cover any damages caused by guests or will a business liability policy serve you better? For more information, click here.

Pointer: Our gratis Damage Claim Checklist helps you keep calm when things get turbulent.
13. Rental contracts in black & white – Your safety net
No matter whether you let your holiday accommodation for a few weeks a year, seasonally or the entire year-round, German tenancy law is the legal basis. A rental contract is your security. That's where any customised agreements are put in writing. Include all booking essentials in the contract. Equally important is compiling your guest's personal data. Check the net to ensure the person actually exists (telephone number, address) and insist he or she signs the rental contract. Draw on information in rental contract templates that contain cancellation and payment conditions as well as deposit regulations. Your rental contract should also include an inventory list.

Pointer: Feel free to download our gratis Expert Advisor, which, among other things, offers rental contract templates in German and English
14. Request a reservation deposit
When the booking has been confirmed at least four weeks before your guests will begin their journey, you should request a deposit – not the entire rental sum. It is customary to request 10 to 30 percent of total costs. More than this is unprofessional. You can request the balance 2 to 3 weeks before your guests arrive.

Pointer: Always confirm receipt of the deposit in writing. This enhances your guests' trust and confidence in your intentions. You can read about how to best transfer the key in our host magazine.
Are you looking for just the right vacationers for your holiday accommodation?
Advertise & let holiday homes
tourist-paradise.com has been a reliable partner for more than 16 years, helping to bring holidaymakers and property owners together in an uncomplicated and direct way. Our service is for all owners who would like to advertise and let holiday accommodation. Ours is one of the largest travel portals in Europe with more than 14 million visitors annually and more than 17.500 satisfied holiday home owners. You can advertise holiday flats, houses, villas and other forms of accommodation with us quite simply and with just a few clicks. Earn money by letting your property and welcome new guests and tenants. Try it out for yourself by registering now for free. Rent out your holiday home with a low-priced advertisement on our portal today and get your first bookings right away! You can rely on us. Advertise your property at an attractive rate on tourist-paradise.com. Our personal Customer Support is available from Monday to Friday from 9 a.m. to 5 p.m. and via support@ferienhausmiete.de at any time.
Would you like personal guidance? Our customer service is happy to help you.
Our telephones are staffed from Monday to Friday, 9am to 5pm.
Telephone +49 30 609 891 44

Or send us an email under:
support@ferienhausmiete.de